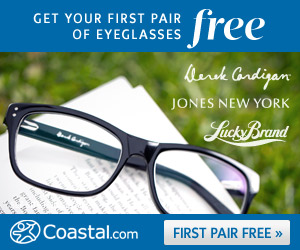 FREE Pair of Glasses from Coastal Contacts
click on the picture/banner above or CLICK HERE  to get yours FREE!  I received a FREE pair for my daughter from here and my shipping was $13.00.  Some shipping may differ, but this was way too good of a deal to pass up.. Shipping charges up to $20 apply.
Get your first pair of glasses FREE from Coastal Contacts (shipping averages about $13.00). Use code: FIRSTPAIRFREE (includes standard lenses) to get the deal. Try them on at home and if it the frames don't fit, return shipping is free!