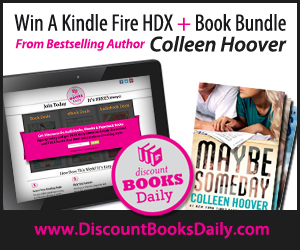 Enter to WIN a Kindle Fire HDX plus a Book Bundle
CLICK HERE.  Make sure that after entering when you sign up, that you give your link to the sign up as they will verify this to be entered to win.
Discount Books Daily has partnered with New York Times bestselling author Colleen Hoover to give away a Kindle Fire HDX and book bundle containing six of Colleen's popular contemporary romance novels. This contest is open to U.S. residents over 18 who subscribe to our daily newsletter.
As a Discount Books Daily subscriber, you'll receive daily email alerts on deeply discounted and FREE books. You choose the genres you love and tell us whether you prefer to receive deals on ebooks, audiobooks or paperback/hardcover books.
The giveaway ends on June 2, 2014.