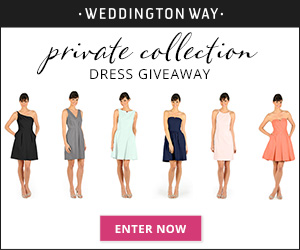 Weddington Way Private Collection Dress Sweepstakes
CLICK HERE to enter!
Weddington Way has launched a new line of dresses inspired by famous silver screen starlets, with cuts made to flatter all body shapes. They are so excited about this new collection that they are giving away a FREE dress!
One lucky bride-to-be can win one of these 6 new and exclusive dresses, in the style and color of her choice. All you have to do is instruct your readers to sign up on the giveaway landing page before the contest deadline, and they will automatically be entered after she adds her favorite dress to her showroom.
• By entering any contest you acknowledge that you have read, understand and agree to abide by the rules outlined below.
• We may refer to these events as promotions, contests, or giveaways. The same rules will apply.
• Weddington Way decisions relating to any contest are final and binding in all respects, including determination of a winner.
• We will require some contact information. If you win we need you to include a physical address or email address where we can send your fabulous prize!
• All contestants agree to participate in our contests in a completely honest and fair manner. We expect nothing less of WW bridesmaids 😉
• Contestants cannot be younger than 18 years of age.
• Contestants must be legal residents of the United States, and cannot be residents of jurisdictions where contest participation is void, legally prohibited, restricted. This includes among other things jurisdictions with laws that would require registration, disclosure, filing, trust account, or posting of a bond, or any other requirements, that have not been satisfied.