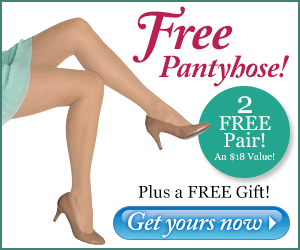 2 FREE MELAS Control Pantyhose –$18 Value!
· Body-slimming control tops and cotton gusset for a smooth and sleek look!
· Your legs, butt and tummy will look great all-day!
· BONUS GIFT – Mesh Laundry Bag
· No obligation to buy anything else!
· Pay just $3.95 shipping and handling
The 2013 Pantyhose Giveaway – 2 Pair FREE!
Body-slimming, control top, silky, sheer blends that cling to your curves in all the right places.