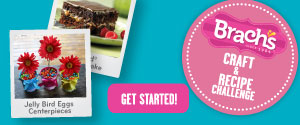 Brach's Craft & Recipe Challenge
Let's get creative with Brach's this Spring! Whether it's a recipe, craft, or decoration, show Brach's your most inventive creation using any Brach's product(s). Share with friends and family, ask them to vote or comment on your entry, and you could win a $1,000 gift card, one of three $250 gift cards, or other great prizes!
Rewards:Grand Prize judged on 50% Creativity and 50% Relevance, out of the top 50 scoring eligible entries:
A $1,000 gift card and two (2) bags of Brach's candy
Three Most Creative Entries judged on 50% Creativity and 50% Relevance, out of all the entries:
$250 gift card (1 per winner) and two (2) bags of Brach's candy
Next 21 Most Creative Entries judged on 50% Creativity and 50% Relevance, out of all the entries:
$20 gift card (1 per winner) and two (2) bags of Brach's candy
First 50 Entries:
Two (2) bags of Brach's candy
Remaining Top 50 Scoring Entries after all other prizes have been awarded:
Two (2) bags of Brach's candy
How to Submit:
Upload a photo of your Brach's recipe, craft, or decoration.
Add a title to your entry and list the materials and steps you used to make it.
Submit your entry.
Share with friends and family via Facebook, Twitter, Pinterest, and other sites to increase your chances of winning.
Requirements:Entry must be your original work. Brach's products must be used to make the completed creation, and the description box must state the Brach's product(s) used and list the steps taken to make the recipe or craft. See Official Rules for other important restrictions for your photo and entry. Please note: The grand prize is based on your score, creativity and relevance. Scores are calculated based on the number of public votes, audience comments, and viral activity. See below for additional details.
Legal Notice:No purchase necessary. Contest is open to legal residents of the fifty (50) United States, the District of Columbia, 13 years or older at the time of entry and have completed account registration at Brickfish prior to the end of the contest.